Yoga

RETREATS FOR YOUR SOUL

Our secluded, luxurious and private hotel & retreat center provides a quiet environment for complete body & mind renewal supported by the practices of yoga, an organic nutritionally balanced diet and the undisturbed beauty of the natural surroundings. With beautiful gathering spaces, gorgeous provencial rooms, and plenty of fresh air and space, your group will quickly appreciate the power and wonder of their time here.

For your practice, Bastide Avellanne features an outdoor yoga shala in bamboo overlooking the vineyard (100sqm), indoor yoga studio with heated flooring (40sq m) and all props – yoga mats, blocks, straps, and blankets.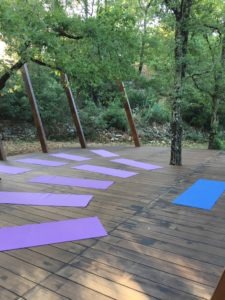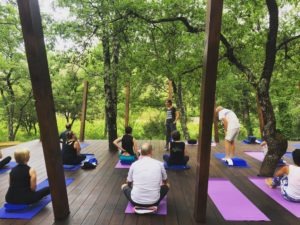 Contact for more info
Next Events:
13-19 May with Tao Porchon Lynch & Renee Diamond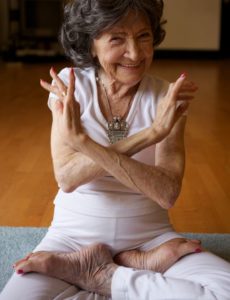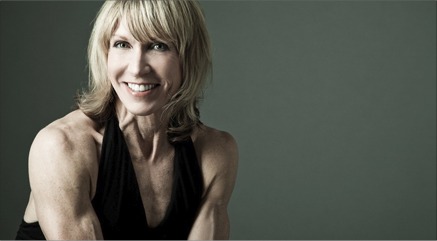 10-16 June with Erin Lewis EAT PRAY MOVE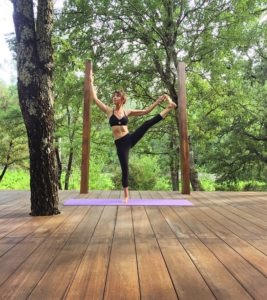 25-2 July with Amy Tatsumi & Miyuki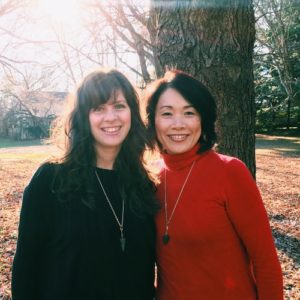 7-14 July Siam Gordon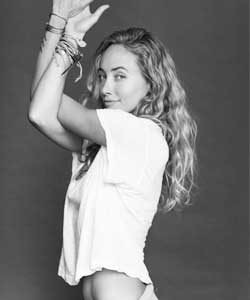 16-22 September Melissa Paz
Past events:
11- 17 of June – Eat Pray Move with Erin Lewis
Daily meditation and yoga classes will be offered in a way to relax, stimulate, and help guests grow in their own personal practice. Classes are open to all levels, beginner to practiced, and can range from gentle, restorative, and more vigorous vinyasa flow and ashtanga styles.* Style and class levels will be determined and moulded to fit participating students' needs, and with a small intimate retreat class size, students will be able to get personalized attention and comfortability to deeply explore their practice. For booking, pricing details and further questions, please contact Erin Lewis at erin@eatpraymove.com
24th of June – 1st of July – Yoga Solei with Anne Arntson
Enjoy the perfect mix of practice, exploration and relaxation —with afternoons free to lounge about the pool, beautiful walks in the countryside, excursions to visit a few breathtaking Provence villages, and evenings with exquisite food & wine, family-style under the stars! For booking, pricing details and further questions, please contact Anne at info@yogasoleil.com
17-23 July – NOURISH YOUR SOUL with Karin Åhgren
This 7 day all-inclusive retreat will allow you to reenergize, connect and reflect as you move mindfully through yoga in the heart of Côte d'Azur. Tune into nature during morning meditation, nourish your soul with healthy organic cuisine prepared by our very own chef and let your body go during dance meditation. In between classes you are welcome to soak up as much of Provence as you like; enjoy nature excursions, take long walks through the property's vineyard and lavender fields, visit local villages or stick around to enjoy the on-site pool and meditate on the quiet grounds. This is the perfect opportunity for you to connect with yourself and the soulful people of the group while sinking into the enchanting beauty of your surroundings. For booking, pricing details and further inquiries, please contact me at karinahgren@hotmail.com
23-30 July – TRANSFORMATIONAL RETREAT with Maria Stenvinkel & Jenny McConnell
Whether you're unsure of your direction in life, or just want to get new energy and inspiration – this retreat is designed to help you align with your best self. You'll get a chance to slow down and to lay the foundation for a life filled with purpose and meaning. You'll go away with a greater sen se of calm, contentment, and courage. (Oh, and new friends of course!) For booking, pricing details and further questions, please contact Maria at maria.stenvinkel@gmail.com
1-6th August – Yoga with Bruce Chung
We have the pleasure to host Bruce Chung for a 6-days yoga retreat.
Pricing inclusive of:
5 nights accommodation
3 meals per day with a reasonable amount of wine at dinner
Twice daily yoga led by Bruce
Day trip to Gorges du Verdon, the largest canyon in EuropeBook before 7 July and receive a complimentary wine tasting, and free airport transfer (valued at €140)
* Nearest airports: Marseille (MRS) or Nice (NCE)Twin/Double accommodation: €920Single accommodation: €1170
For booking, pricing details and further questions, please contact Linn at info@batideavellanne.com
26-30th of August – Mini-Retreat with Erin Lewis
Join us for a mini-retreat as a quick end-of-summer rejuvenation, or addition to your vacation. We'll spend a long weekend with a balance of yoga, relaxation, as well as tastings, sites, and a day on the blue waters of the Porquerolles Island.
For booking, pricing details and further questions, please contact Erin Lewis at erin@eatpraymove.com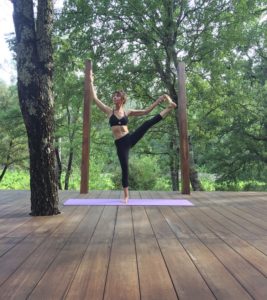 11-18th of September – Minfulfitness with Lisa Hampton 
What inspires you? What makes your heart sing? Taking time out of a busy life for retreat is essential for wellness but it's also an opportunity to awaken awareness and discover the riches within. Move mindfully at your own pace and enjoy a relaxed and heart-centered week that's loosely structured so you can do as little or as much as you'd like. Yoga classes, meals and included excursions are planned but always optional; The rest of the time is yours to rest at the villa, go on excursions or enjoy the in-house spa treatments. For booking, pricing details and further questions, please contact Lisa at lisa@mindfulfitness.com