May Newsletter – 2019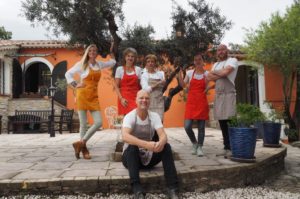 Meet the team and find out more about our coming events
Dear friends of the Bastide,
It has been one month since we opened our doors again and we are so excited to tell you about all the changes we've made and the events that we are hosting here at Bastide Avellanne this coming season.
Firstly, I would like to introduce you to our team for 2019. Some faces you will recognize, and some are new additions. You already know of Lee who looks after the property and the grounds. Sarah, his wife to be (getting married very soon), manages all our reservations and much more. Michele, has been keeping the rooms clean and warm at the Bastide for 15 years, and continues to do a wonderful job. Then we have a new couple from Holland who has joined us for the season. Dick will be acting general manager and his wife Nana will be looking after the groups.
Now you might wonder, who is cooking? Matt, who was creating magic in the kitchen last season will be cooking up a storm again here very soon. In the meantime, before his arrival, we have Marlene, a French chef, who will be nourishing all our guests with her delightful creations! We're very excited about her being part of our team. Check her skills out here.
If you would like to join one of our events this year, have a look at the available retreats listed below. But be quick! We have limited spaces left.
Warmest wishes from our little nook in Provence,
Linn
5-12 May – Detox Retreat with Julia Banbury & Eniko Suto. This retreat will be a detox for the mind, body and soul. We will serve a vegetarian diet, encourage abstaining from alcohol (apart from a few welcome drinks and wine tasting) and also from technology.

Food: Vegetarian all week
Included activities: Hike, 1 hour Massage and Wine tasting
Level: For all levels
9-15 June – Erin Lewis is coming back for her annual retreat EAT PRAY MOVE. A week filled with activates such as markets in Aix-en-Provence, lavender fields, and yoga overlooking the vineyards of the region of rosé – ending with a spa day of pure relaxation. Meals will be enjoyed on the terrace in the shade of the oak trees, or served by candlelight under the pergola or in the veranda. We'll feast on traditional flavours of Provence mixed with the French, Italian and Mediterranean styles as well. Plus, throughout the week, we'll have a chance to sample many regional wines, aperitifs, and other tastes such as cheeses and various other specialties.
Daily meditation and yoga classes will be offered in a way to relax, stimulate, and help guests grow in their own personal practice. Classes are open to all levels, beginner to practiced, and can range from gentle, restorative, and more vigorous vinyasa flow and ashtanga styles.Food: Vegetarian all week
Included activities: Gorges du Verdon with lavender Safari, Aix en Provence, Hike and Wine tasting
Level: For all levels
SAVE €200 WITH PROMO CODE: Bastide
29 June-6 July –Denise Marlow from RED HOT YOGA will be offering you the chance to be totally immersed in a variety of Yoga styles, you can enjoy trying out Hatha, Yin & Vinyasa as well as Mindful Yoga. Retreats offer a number of benefits of resting from your normal routine and being outdoors in nature. Deepening your yoga practice will help to give a fresh view and awareness of yourself and your life. You can choose to take the week as a retreat with more silence and reflection during the free time, or you may prefer to just relax, be on holiday and explore the French sites!

The focus of this Retreat will be Strength & Stability, coupled with a daily Yin class to improve flexibility, with awareness on precision and connection with your breath, the very root of a solid Yoga practise.

Food: Organic & Pescegetarian all week
Included activities: Wine tasting
Level: For all levels

SAVE €100 WITH PROMO CODE: Retreat100
1-17 August – ECO YOGA RETREAT with Anna Gordh Humlesjo. 
A retreat is to come home and discover a new world within yourself. Join our Eco Yoga Retreat at the Bastide with yoga teacher Anna Gordh Humlesjö. Discover the joy of yoga with Annas teaching. Everyday is a perfect mix between dynamic and relaxing yoga and mindfulness practice carefully designed to suit everyone in the group. Between yoga classes and enjoying the amazing organic meals together, we have a lot of time for summer adventure. Discover charming Provencal markets, some of the most breathtaking beaches of the Mediterranean sea, or just relax in the stillness of nature around the Bastide, or at the side of the pool in the sun. One day we practice yoga together by the turquoise water of Europes larges canyon the Gorges du Verdon.Food: Organic & Vegetarian all week
Included activities: Wine tasting, Gorges du Verdon, Hike and Porquerolles Island
Level: For all levels
20-24 August – Maria Söderholm & Renu (Diane Zagoria). The itinerary includes hiking expeditions and Yoga Nidra meditation in magnificent nature, as well as visits to the local markets in the small villages and a wine tasting experience by a neighbour when he visits us one evening. Maria, the leader of the retreat, is also Swedish, but based in Los Angeles. She has a vast experience of producing retreats all over the world and she is passionate about the outdoors and travels. Maria will also lead a calm, body- and stretch workout, to loosen up tight muscles. Renu, the co-leader of the retreat is a 500hr E-RYT certified yoga and meditation teacher, Reiki Master, Yoga Therapist, Reflexologist and Life Coach. She travels in the US and abroad teaching trainings, workshops and retreats specializing in stress reduction and Yoga Nidra meditation. She shares Maria's passion for travel.

Food: Organic & Vegetarian all week
Included activities: Wine tasting and Hikes
Level: For all levels